"Stop Losing Time...Use Coupon Buster To Import Thousands of Coupons In Minutes!"
---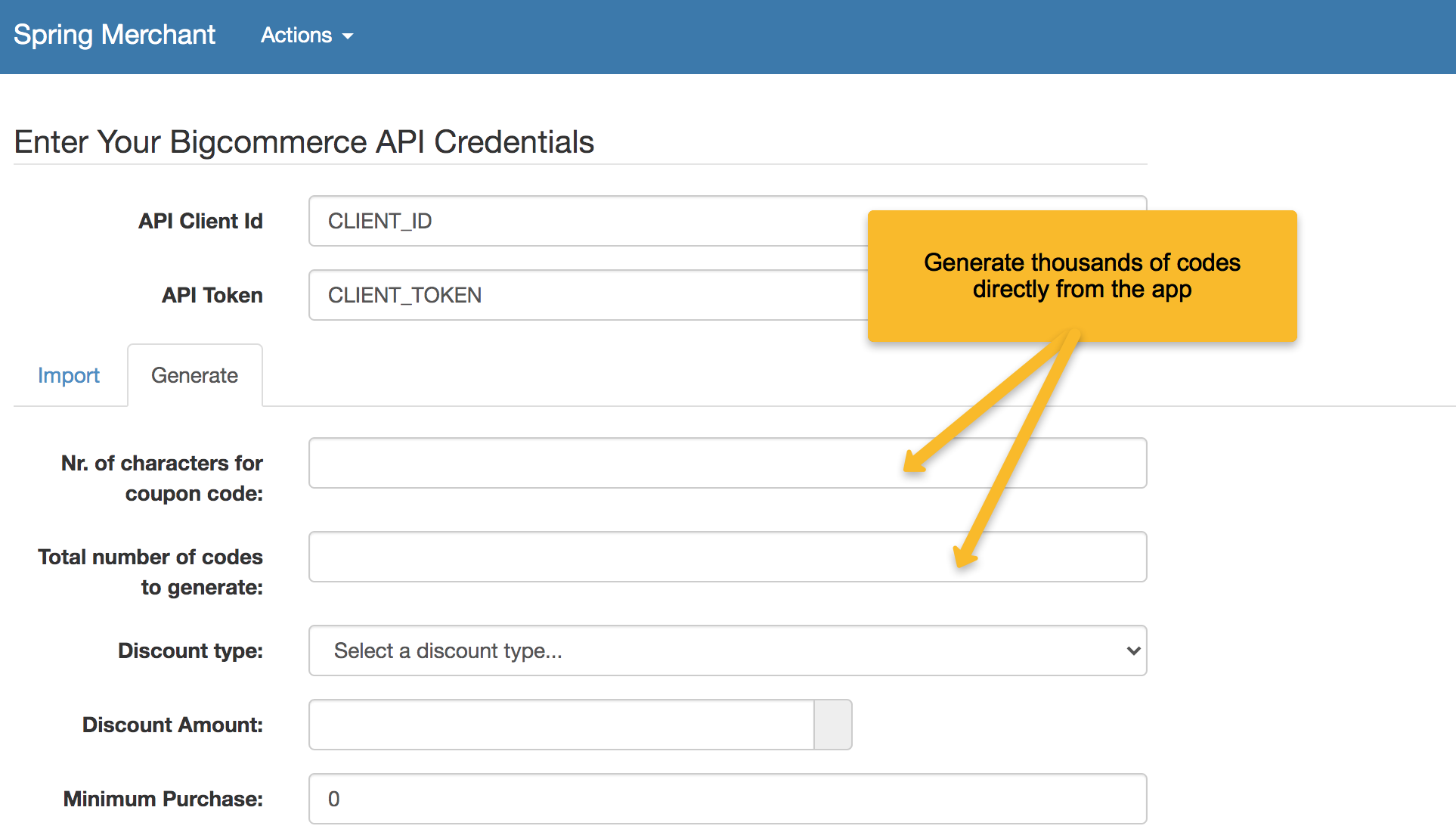 How long do you think it will take you to create 1000 or more coupon codes for a promotion?
Let's be generous and say that creating a coupon code using the control panel takes you about a minute. It probably takes more than that since you have to click on each option, fill out the fields and so forth. But let's do a quick calculation: 1 minute x 1000 coupon codes = 1000 minutes or roughly 17 hours. That's two full working days of non-stop coupon creation in the best case scenario. It can take longer if the options are complicated.
Are you willing to waste 17 hours just to create coupon codes for a LivingSocial or Groupon promotion?
We have a solution to this problem.
It is called Coupon Buster and it is an application based on the Bigcommerce API that can create thousands of coupon codes in minutes. No more creating coupon codes manually. No lost time. No more errors. Just a quick and easy way to create the coupon codes that you need.
Coupon Buster is ready to help you:
saves you time when having to create many coupon codes in Marketing - View coupon codes, in Bigcommerce
relieves you of the pain of having to manually insert coupon codes since you can do this via a CSV import
error free coupon code creation, the app does the job for you
easy to configure and use, it needs only your API credentials to do the job
we offer support as needed
an affordable solution that you can use to create unlimited coupon codes
lifetime use of the app for a one time payment
nothing to install, just upload a file and you can start importing coupons

NEW!

you can automatically update existing coupon codes

NEW!

bulk delete coupon codes in seconds
We have seen the work that goes into preparing for a promotion. It takes time and money to do it right. One option would be to hire virtual workers to spend 17 hours adding the codes for you. Still, going that route will cost you more money and is also prone to human error (incorrect coupon codes, missed options and so on). Plus you have to pay each time you want to run a promotion which is unsustainable.
Coupon Buster solves these issues:
you only pay once and then you can use the app unlimited times
it can import thousands of coupon codes in minutes from a CSV file
it is error free
This is a great tool. You'll be ready to handle your promotions by easily creating hundreds or thousands of coupons in your store without breaking a sweat. And you can do it all with a single, one-time payment.
Watch The Video Below And See How Easy It Is To Import Thousands of Coupons Using Coupon Buster
---
Features List
Limit coupons by categories or products
All discount types are supported:

Per item discount
Per total discount
Shipping discount
Free shipping
Percentage discount

Search by coupon code
Update existing coupons in your store
Supported options:

Expiration date
Minimum order amount
Total maximum uses
Maximum uses per customer
Limit by categories
Limit by product(s)
Discount type
NEW!

Restrict coupons to: countries, states/provinces and zip/postal codes

NEW!

Limit coupon codes depending on selected shipping method
Start using Coupon Buster now. To order just enter your store's URL in the order form below and click the purchase button.
Price: $50.00
License:
Use on single site, pay once.