How to add the Google Trusted Store badge to your Bigcommerce store. Quick and easy.
What is the Google Trusted Badge?
As you may know, in some selected countries, Google gives out a Trusted Store badge to online stores. It appears on all the shop's pages and assures the visitor that the seller is well intended, has high quality customer service and makes all the shipments in time and with the proper quality.
It's something like an elite badge that allows you to show your potential customers that someone has taken their time to review your business, that you're legitimate and you're trustworthy.
It also offers $1000 in purchase protection for your customers at no extra charge!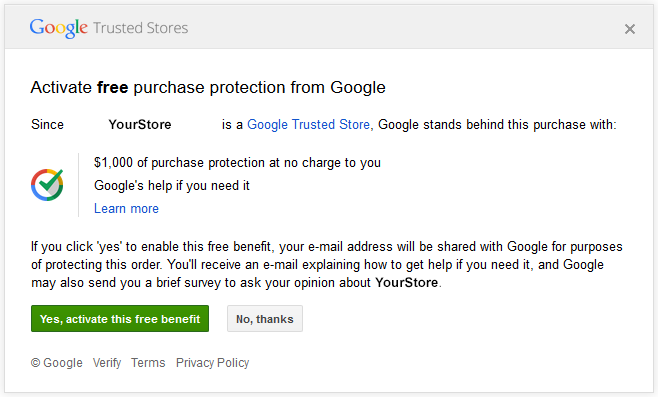 Do you need this badge in your Bigcommerce store?
When selling online, trust is the number one factor that determines a sale.
If there's something that seems 'fishy' to your potential customer about anything in your store, they will go away and you might not even know it.
Your potential customers will have a reason to trust you, even if you're just beginning to sell or even if there are cultural differences between you and them.
They may be used to different kinds of communication, but the final product will reach them, as promised.
Having the badge means that you are who you say you are and that you will give them exactly what you say you will, all in the best time frame, with proper delivery.
This applies to you even if you sell digital products.
How do you add the badge to your store?
There are three ways to get the badge in your store.
The easy way is right here on this page. All you need to do is buy the app and we'll do the rest.

The more difficult way is described here and will take you a while to go through and implement. If visiting that webpage gives you a headache just by looking over it, then the more difficult way is probably not for you.

The last option is signing up for the Enterprise plan which includes the Google Trusted Store integration.
Why buy this app?
Complete integration. If you use Google Merchant (the old Google Base) then we will setup the Google Trusted Badge to send over the Google Merchant details automatically.

Peace of mind. We'll install the plugin for you, modify the required template files and verify that the integration works by testing it with three different browsers (IE, Firefox and Google Chrome). We will even send you the screen shots for every browser so you can be sure the integration works.

Future-proof. If Google changes the integration code, or Bigcommerce makes changes to the template files then we will modify the app for you at no extra charge to keep it working.
Now that you know this badge is important for you and your clients, enter your store URL in the box below to purchase the integration.
Price: $100.00 (one-time setup) + $25.00 / month